There is a wide range of facial rejuvenation and body tightening techniques that can be applied at any age. However, microcurrent therapy is a procedure that is famous for its safety and high efficiency.
---
Microcurrent therapy
Home microcurrent therapy is a technology that uses weak electrical impulses to help restore muscle tissue. This allows you not only to improve the condition of the skin but also to restore the metabolism in the body. It copes with swellings and normalizes blood microcirculation.
The actual name of the microcurrent reflects the essence of the method – electric current in microdoses. The current strength and its frequency have minimal values – from 20 to 800 μA, and this indicates the safety of microcurrent procedures, the absence of potential complications, and the need for a rehabilitation period.
Microcurrent affects not only the upper layer of the skin – the epidermis. The depth of its penetration inside affects all soft tissues – the dermis, cell membrane, subcutaneous fat, muscle layer, blood, and lymphatic vessels. That's what determines the effectiveness of microcurrent therapy. Some muscles that "hold" our face when we are young, over time, spasm, fall, relax, other – are opposite, come into hypotonia. The corners of the eyes and mouth go down, neck muscles, the forehead becomes tens, and the face, sagging down.
---
6 Reasons to use home microcurrent therapy
Saggy skin prevention;
Cellulite prevention;
Wrinkles prevention;
Bags under the eyes prevention;
Acne and post-acne treatment;
Double chin reduction (V-Line).
---
Does home microcurrent therapy work?
There are many debates among the woman's social networks, whether there is an effect from home microcurrent therapy or a complete waste of money?
According to Allure The Beauty Expert effect from home use beauty gadgets is not what it's expected to be. Home-use beauty gadgets do not fix existing problems, but they do prevent them.
"Microcurrent therapy is best used for maintenance and prevention," says New York City-based board-certified dermatologist Marina Peredo. "For example, if you received an in-office treatment and want to keep your skin tight and your face defined, it can help with that but if you use it alone, you may not see the results you are looking for."

"Allure The Beauty Expert"
However, as all beauticians say, microcurrent therapy will never be unnecessary.
---
Contraindications
Since the microcurrent procedure is a physiotherapeutic service, it has several contraindications, which can be divided into absolute and temporary. The absolute ones include:
Oncological diseases;
Intolerance to an electric current;
Reinforcement of the skin;
The presence of epilepsy;
Suffered a heart attack or stroke.
Temporary contraindications for microcurrent therapy include:
Fever;
Pregnancy;
Breastfeeding.
Microcurrent therapy is an effective and efficient way to get your skin a healthier look. Those women who have not yet had time to try all the charms of this technique have lost at least one more opportunity to become more beautiful and young!
However, if you finally decide to get your beauty gadget, which one to choose? There are so many skincare devices on the market. But we would like to bring your attention to Asia, South Korea.
As many of us know, Koreans are very advanced in aesthetics their beauty devices are one of the best in the skincare market.
We have a wide range of microcurrent beauty devices, and here are some of our best selling products:
---
ECLORE Mirang 42˚C heating device
ECLORE Mirang 42˚C heating device used to be named Ms. Egg Cozcore Mirang, but the company recently updated the design and name of the gadget.
ECLORE Mirang Cozcore 42˚C heating device has four functions:
42˚C Heat: Delivers ingredients from your cosmetics direct into the skin and helps to vitalize collagen. Galvanic microcurrent improves the absorption of cosmetics.
Vibration: Gives effective facial massage by contracting facial muscles.
Electrotherapy: Helps cosmetic ingredients penetrate deep into the skin.
660nm LED therapy: Red color gives energy to your skin by stimulating blood circulation.
---
I have face RF…..is it good to stimulate hair growing

Hello, Pamela! Thank you for your comment. Which prices are you looking for? For which product? Thank you!

I can't find your price anywhere

Amazing Blog. Keep it up.
---
Cozcore Mirang 3 Modes Ms. Neck and Chin Lift Device
This device focuses particularly on the neck and V-line's issues. However, besides the special neck and chin belt massager, this device also has a separate remote handle with which you can control the gadget and work your face and area around the eyes.
Mirang Ms. Neck and Chin Lift Device has three modes: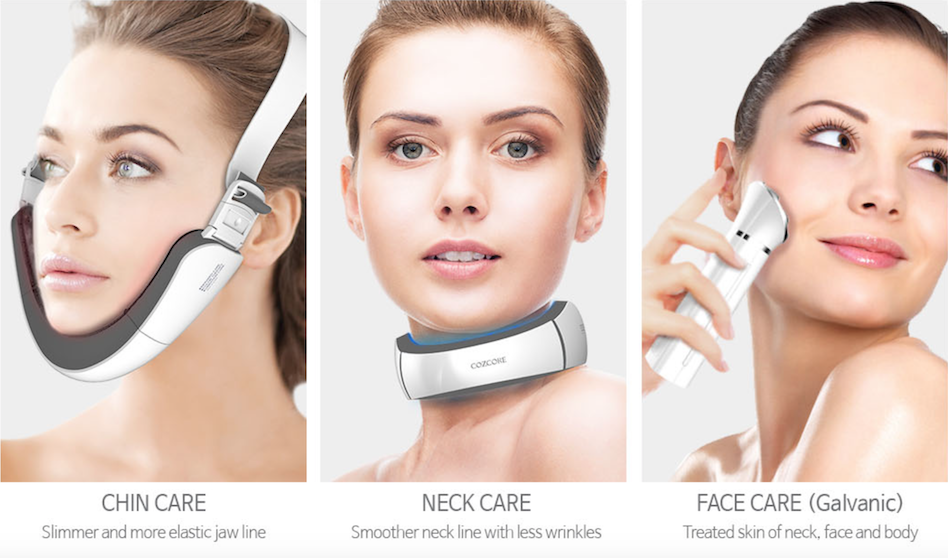 LED Color Therapy: Red color helps to vitalize the skin. Blue color soothes and relaxes the skin. Infrared ray gives energy to the skin.
Micro-current: When the micro-current is applied to the skin, the horny layer is temporarily opened, so that the active ingredients of cosmetics can be delivered deep into the skin. This is more effective than just applying the lotion directly to the skin.
Vibration Therapy: Vibrating skin stimulates small muscles underneath the skin and helps to make the skin more elastic.
---
---
Benefits of home-use beauty gadgets
The ability to combine the procedure with other methods such as lymphatic drainage, mesotherapy, lipo massage, and others.
With the use of microcurrent home-use beauty gadget five minutes per day, six times a week, you will smooth out fine wrinkles, get rid of swelling, the skin will look fresher and smoother.
There are more positive factors of using home-use beauty gadgets rather than negative. But as it's mentioned above with serious skin issues you should go to a specialist.
Home-use beauty gadgets do not fix existing problems, but they do prevent them.